One of the leading real estate developing agents in The Gambia, Universal Properties, has resumed business in full force after some brief business interruption to settle some internal issues with the British partners of the company, the MarketPlace can reveal.
The company, established in 2009 by Alagie Sanyang, a young enterprising Gambian, offers qualitative services such as sale and letting of quality properties throughout The Gambia as well as complete range of property services including land purchase and land preparation, residential and commercial sales and letting, land purchasing for investment, property valuations, and mortgage advice.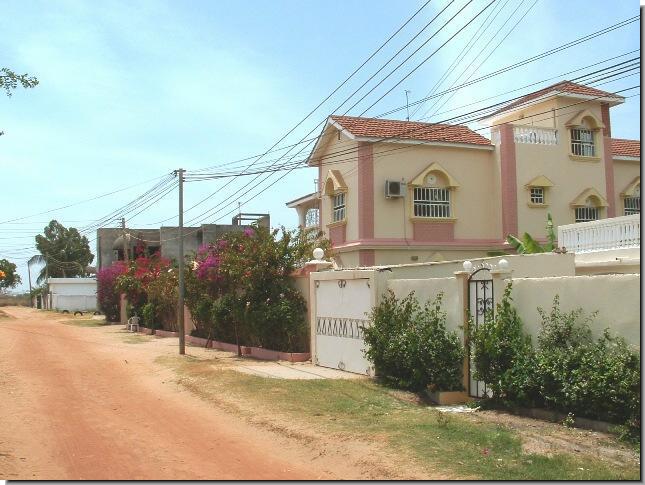 In an interview with MarketPlace at his office located at the FIB Building on Kairaba Avenue, Mr Sanyang
said that after the brief interruption, there are lots of good things coming for his customers, "especially those who were all along patiently waiting for the company".
He said his agency already has a well developed estate in Brufut with 300 plots, which are affordable to low-salary earners.
"At Universal Properties, our plan is to make housing available to every Gambian, whether rich or poor; we want everybody to have a home as part of our contribution to the development of the country," he remarked.
According to Mr Sanyang, who is in his late 30s, similar projects, like the one in Brufut, are coming up in Lamin Town and Coastal Road, where they are developing over 120 plots and 76 plots respectively.
Mr Sanyang said:

"The process of acquiring a plot from Universal Properties is very easy.

We are located at FIB Building. Once you come here, we know what you have and we will tell you what we can provide you, and then in no time you have your own piece of land.
"There is no hidden transaction cost; everything is very transparent, as every single dalasi deposited you will be given a receipt for it. Our houses are affordable to everyone, so once you step in our office you will definitely go out with something."
The payment method of Universal Properties is flexible and negotiable, Mr Sanyang says, adding that the method is very easy because with as low as D2,500 per month one can have a developed plot of land.
"Sometimes we even negotiate depending on the condition, and sometimes we go below D2,500 per month just to make home affordable for everyone," he explained.
Despite the intense competition in the real estate sector, Mr Sanyang said Universal Properties controls the lion's share of the market as a result of unparalleled quality services they offer coupled with his vast experience in real estate business.
He said:

"Though the market is very congested and there is intense competition, I am not moved because the real estate market belongs to Universal Properties for the simple reason that all my life I have been in real estate business, so I know how to do the business.
"I started with the Premium Properties as the general manager.

After some years there, with my experience and expertise, we set up Global Properties then I became the general manager there also, and now my own Universal Properties; so no real estate can serve as a threat to me."
Interruption due to misunderstanding
Mr Sanyang said the brief interruption the business had was as a result of a little misunderstanding between him and his two British partners.
"I see to it that I cannot continue with them for certain reasons," he explained.

"There are so many reasons but in a nutshell the purpose of them being invited was not served, so I was no longer interested in them; that is why I just asked them to quit to ensure everything goes normal."
However, he said, everything has been taken care of and now Universal Properties is 100% under Alagie Sanyang as the owner.
Henceforth, the company is a Gambian owned estate and that no foreigner is involved, he said.
In fact, he added, the business was not closed; it was operating, while I was sorting out issues with other partners.
Universal Properties was set up in March 2009 and since then the company has been hitting the market successfully.
Since its inception, the company has sold numerous plots of land in different locations.
Mr Sanyang also called on Gambians abroad, who have some capital, to come and invest in the country as a way of contributing to national development and reducing the unemployment rate in the country.